IAAPA and Richco team up against COVID-19
COVID-19 Reopening Products and Services
As parks and attractions around the world prepare to reopen in wake of COVID-19, IAAPA manufacturer and supplier members are creating new products and services to help meet their needs. Members are producing needed supplies, such as masks, hand sanitizers, and personal protective equipment, as well as innovating with technology to create solutions related to cleaning, capacity and more.
The below list is updated regularly and highlights current IAAPA members focused on supporting the attractions industry as it continues to move forward.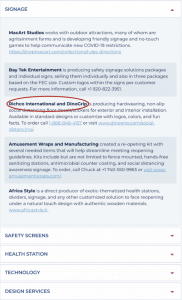 Looking to help the cause and keep your company following Social Distancing guidelines?
Shop decals here: https://www.dinogrip.com/social-distancing/